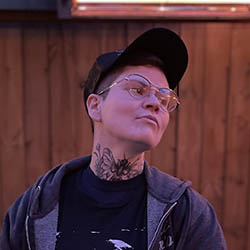 Browie Borowski
Director of Operations & Executive Beverage Director
Browie first fell in love with cider about 14 years ago while drinking scrumpy out of dusty old kegs in English pubs. Since that first taste, they have been on the hunt for unique and tasty ciders, finding their home at The Northman.
They focus on the skills of craft cocktails, without forgetting that the main job of a bartender is to serve people. Their industry career started 17yrs ago in the kitchen. After a few years behind the stove and finishing up culinary school, they jumped behind the bar and they haven't left since.
They are the head of operations of The Great Lakes International Cider & Perry Competition, Founder of Chicago Cider Week, Co-Founder of Northman Cider Co., and have leant their palette to the Beverage Tasting Institute.
They are well traveled across a unique booze landscape, combining an inventive mind and adventurous spirit to create a special beverage experience for our guests. A deep passion for cider shines through their extensive knowledge of processes and product.
A beautiful story of how they were hired for the company, Ambrosia has now weisled their way into the hearts of ownership to procure the position of Director of Operations as well as all of their former position.
Away from work, they can be found foraging apples around the city, making cider at home, and traveling by bicycle.