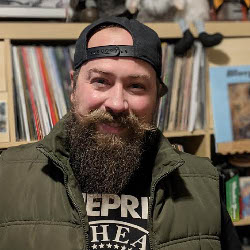 Nate Albrecht
Pub Manager
Nate grew up in, and around Detroit. He has been working in bars and restaurants since his early teens. Nate's one of those lifers, that's worked every position in an operation from busboy to management. Nate attended the University of Michigan, where he earned bachelor's degrees in both History, and Classical Civilizations.
It was during his transition from high school to college in Ann Arbor, where he first became acutely aware of the wonderous landscape of craft and artisanal brewing and "small" brewery culture. After a period of exploration and a fateful transition to Chicago in 2009, Nate became one of the founders of Chicago's Aleman Brewing Company. Assuming the hats of various roles from head brewer to supreme janitor, Nate has spent 10 years learning the ins and outs of not only the art of brewing, but the beer industry worldwide.
During this adventure Nate has simultaneously been working behind the bars at both Fountainhead, and the Bar on Buena. With a highly specialized skillset and extensive knowledge of both brewery and bar operations, Nate intends to make the Pub at the Green post a tremendously comfortable yet highly engaging room.